Some facts seem so obvious on the surface that they don't even warrant a second take. An example of one of those facts is that 4/5ths of the working world does not sit behind a desk. You might hear that and think it's obvious at best and innocuous at worst. But for Jem, that fact is our true north.
When we started Jem (known then as SmartWage) in 2020, we did so to pioneer the earned wage access model in South Africa. If you've never heard of it, it's a way for employees to access a portion of their earnings as they earn it. It helps prevent the most vulnerable in our workforce from having to borrow from payday lenders just to make ends meet. One of the key reasons we led with earned wage access was that we were setting out to combat South Africa's debt problem and drive financial inclusion. You could say that in the early days, this was our purpose.
Around the world, most earned wage access providers are app-based, so when we set out to build our own version of the product we thought we'd do the same. It didn't take long for us to realise that it was a bad idea. We knew that even when companies offer their employees benefits and a better experience through an app, they rarely use it. Companies spend fortunes building apps that effectively collect dust on your home screen. If we really wanted to create a meaningful impact, we needed to find a better way to deliver our services. We needed to find a channel that made sense for our customers. We needed to meet employees where they are. And that place was WhatsApp.
SmartWage earned wage access was born. Shortly after, we introduced a series of other complementary products, like digital payslips and communications. The former, Payslips, got off to a roaring start - admittedly, even better than we had anticipated. Naturally, we were curious about the reasons for the incredible traction. We knew that we were solving a significant problem: most companies still manually printed and distributed payslips, costing them fortunes in hard costs and administrative time, and most employees needed easy access to payslips for a host of reasons including opening store accounts and applying for loans. We sat down with some of our Payslips clients to really understand why it was so sticky, and the answer was surprisingly simple: the employees at these companies were mostly on the frontline, which means they didn't work in an office with regular access to emails and other specialised software. They loved the fact that they could download payslips, communicate directly with the office, and access their earnings all on a convenient channel like WhatsApp. Equally, employers loved that they finally had an effective channel to digitally connect with their entire workforce. That's when the penny truly dropped.
It turned out that the obvious fact I mentioned earlier was far from innocuous. When we started quantifying it, we learned that 2.7 billion working people worldwide are considered 'deskless' - the vast majority of the working world. We also learned that only 1% of enterprise software spend goes towards companies that build enterprise software for deskless workers. It was strange to us that despite the overwhelming numbers, most HR and payroll software is built with the desked employee in mind. We felt as if we had discovered the greatest non-secret in the world of enterprise software. Suddenly our purpose expanded beyond financial inclusion and South Africa's debt problem. A much bigger problem needed to be solved, and we were uniquely positioned to do so. We found a new purpose: to connect employers with their frontline employees. Since then, we've been on a mission to build the ultimate HR system for deskless workforces.
Almost 3 years later, we are exceptionally proud to be delivering on our vision. We've built HR and Payroll software that puts the needs of companies with frontline employees first. We ensured that it could bolt onto almost an existing payroll system, making it incredibly easy and practical for employers and employees. We've saved our Clients fortunes in printing and distribution costs and administrative time. We've made payroll and HR admin easier and lightened the load on our clients' HR and Payroll departments. We've improved the frontline workers' employee experience by giving them an HR and payroll system that they can use wherever they are and where the work is happening. We've also saved them from having to borrow from unscrupulous lenders and helped them make ends meet when they needed it most. In just a few years, we have digitally connected thousands of frontline employees with their office.
There have been plenty of milestones along the way that deepened our belief that we're on the right track. Vivatech awarded us as the 'Top African Startup' in 2020. We closed a $2m seed funding round in 2022. Our team has grown tremendously, we've signed hundreds of new clients, our product portfolio has expanded and we've undergone a complete rebrand to align with our new vision. But just last week, we achieved one of our proudest milestones to date: being accepted into Google Startups Accelerator, a program for exceptional African startups solving systemic problems and driving inclusion across the continent. It's a testament to our products, purpose, and incredible team. We're also very proud that we were the only South African startup in this year's cohort.
Acknowledgement and validation are great, but that's not why this is a big deal. Our inclusion in Google's latest cohort is significant because it will provide us with new skills, knowledge and connections which will help set us up for the next chapter. And we'll need it, things are happening fast.
This year, we'll launch a host of new products: IRP5s, scheduling, leave, onboarding and more. We'll also expand our footprint into Africa and beyond and continue to grow our team. We have a big problem to solve, and we're only just scratching the surface.
One of my favourite writers said, "it doesn't matter what you can do if you don't know why you're doing it". Having a why makes things make sense, and while trying to find yours might sound like a daunting prospect, you might be relieved to learn that it doesn't have to be some earth-shattering epiphany or a eureka moment. Sometimes, you just need to give the seemingly obvious facts a closer look, and if you dig a little deeper, you might just find your purpose.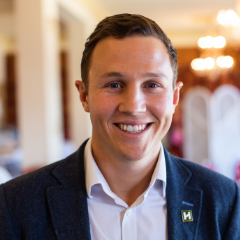 Simon Ellis
Simon is the CEO of Jem, an African technology company that is making HR & Payroll easier using WhatsApp.